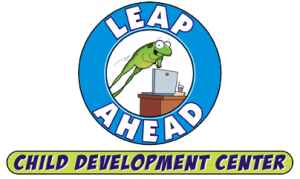 Leap Ahead Child Development Center has a limited number of spaces for infants from four weeks to one year old. We recommend that you contact us during the second or third trimester of pregnancy to check on availability of a spot for your infant.
Babies are given a lot of cuddling and special attention by our experienced teachers, and we maintain a safe and clean environment for each infant, with dedicated cribs and bedding.   All teachers have been certified with Safe Sleep training as well as infant first aid and CPR.
We keep records of feeding, changing, napping as well as any notes on a child's experience for the day that may need to be shared with the parents. Weather permitting, they may be taken outside to our fenced enclosure (our infant room has its own door to the outside for emergencies)..
Because we understand that the first year of a child's life is when the brain experiences significant growth and absorbing of its environment, we provide stimulating activities to promote brain development. This would include singing nursery rhymes, finger play, reading and describing pictures. One on one 'tummy time' is also one of the activities.

© Leap Ahead Child Development. All Rights Reserved.